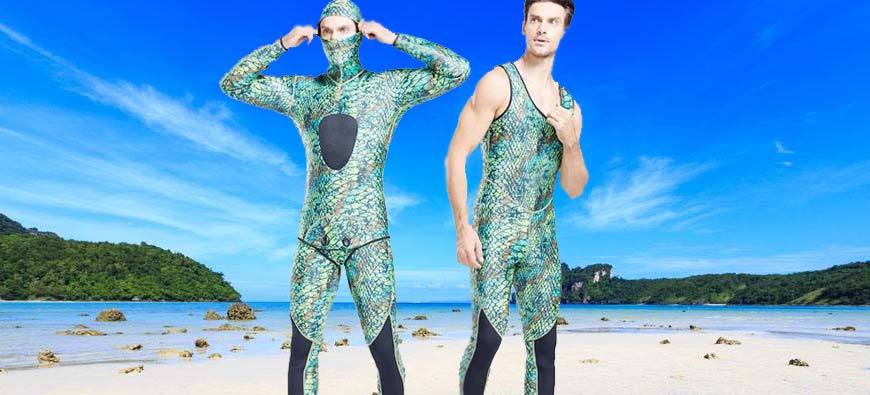 In case you didn't know, the camo spearfishing wetsuit is on a roll. But why get in on this trend? What benefits do camo wetsuits have over traditional wetsuits? There are a couple of reasons actually. For instance, they are comfortable to wear, and they don't strain your movements underwater. They are available in different thicknesses for you to adapt to different water temperatures. And best of all, they come in all sorts of camouflage colors and, and that means you can blend more easily with the surroundings so that the fish can get closer to you. The traditional wetsuit makes you stand out with its jet black color that probably reminds your prey of seals.
Made of neoprene, nylon, and spandex, this camo wetsuit can be used for spearfishing in addition to surfing, swimming, snorkeling, and even scuba diving. The camouflage suit comes with back zip, and it's a one piece non-hooded wetsuit available in various colors. Wetsuits of different camo colors can be worn for different underwater terrains.
The suit is designed to offer protection to the knees, and the chest, and it is also breathable. Furthermore, the suit can offer thermal protection, thanks to its 3mm thickness.
You will also get very good quality when you purchase this suit, which goes for just $68.98 USD.
This MYLEDI suit is uniquely designed to give its users a two-piece spear-fishing solution. It is made of neoprene and even nylon. With a thickness of 3mm, the suit is laminated using elastic Lycra on the outside, and it offers green camouflage, which makes it ideal to use during summer, autumn, winter, and even spring.
While using this suit, you will get protection against the sun's UV rays in addition to enjoying thermal protection. The chest area is also padded for protection. The suit is zipless for added convenience, and in addition to using it for spearfishing, you can also use it for freediving, scuba diving and even fishing. All these features come at a price of $103.98 USD.
This 2-piece hooded suit is cool looking in design. It has a lot to offer spearfishing fans. First of all, it comes in a broad choice of colors including green, sky blue, yellow and red, and even aqua blue, all in camouflage. This, among other factors, makes the suit appropriate for the summer, spring, autumn, and even winter fishing.
You will get thermal protection when using this suit, as well as knee and chest protection. Otherwise, you can use the suit to swim, free dive, snorkel, and even surf. Also, the suit goes for $94.98 USD.
This is a premium quality hooded camo fishing suit with open cell lining. It will offer you superior thermal protection as you spearfish and do other water-based activities in extremely cold water conditions, thanks to its 7mm thickness.
Made of neoprene, the two-piece suit has a green camouflage and it can be used for deep diving during the summer, spring, autumn, and even winter.
You will also get knee protection with this camo wetsuit. Other things to look forward to when using this suit include the fact that it is zipless and that it offers smooth skin lining. This suit and all its great premium features can be yours for just $189.98 USD.
With its glued blind stitch, this great hooded 2-piece camo suit will give you coral camouflage. The suit is made of 2-face nylon laminated SCR and you can use it for anything from spear fishing, scuba diving, snorkeling, and other wading activities.
Additionally, with its distinctive red & yellow coral camouflage color, the suit will ensure you have an easier time fishing, and thanks to its great thermal protection, cold waters will not be an issue either. Otherwise, you will also get chest protection pads with the suit, which goes for just $109.98.
One of the things you will love about this 2-piece hooded suit over other camo wetsuits in the market is the fact that you will get a good selection of colors to choose from. The color choices are red, blue, green, and yellow camouflage.
Obviously, with its 5mm thickness, this suit is especially suited to cold water spearfishing. Furthermore, you will get UPF5+ sun protection, as well as knee and chest protection. The suit is made of SCR neoprene, and it also features nylon and polyamide. Best of all, it costs just $126.98 USD.
Conclusion
At the end of the day, as you shop for a spearfishing wetsuits, you need to consider its thickness as that is what determines whether the suit will keep you warm as you fish. You should also decide if you want a hooded suit or not, as well as whether you will get protection on your chest and knees in addition to its camouflage colors as you buy a camo wetsuit.